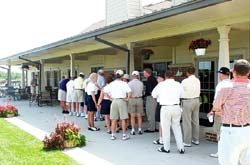 The Drumm Farm Golf Club has earned the mark of a champion when it comes to group events. Whether you are a company needing a location for a business meeting and golf, or an organization with 144 players, the staff at the Drumm Farm is devoted to providing an experience that is unmatched in the area. With the combination of championship golf and our $2 million clubhouse, Drumm Farm can serve the needs of any sized group. Since our opening in 2002, numerous corporations, organizations, and groups have enjoyed hosting their outings at our facility.
If you are considering Drumm Farm Golf Club for your next golf event, Please contact our General Manager, Mike Mueller at
(816) 350-9900 or contact by email at mike.mueller@greatlifegolf.com.